Police have conducted raids on at least two marijuana dispensaries operated in Toronto by Canna Clinics. The raids happened mid-morning at the B.C.-based company's stores on Queen St. W. and Kensington Ave.
Canna Clinics has seven locations in Toronto. Toronto police did not immediately confirm how many of the company's dispensaries had been raided.
A bar owner near the Kensington clinic said police came around 10 a.m. Customers were let go before police closed the store.
Officers at the scene said they were going to arrest the staff members and seize all illegal drugs. A number of people who appeared to be employees were seen leaving the store around midday. One was crying, and others looked defeated and resigned.
At the Queen St. W. store, Det. Darren Worth said nine employees were detained. Worth said all of them had been arrested, and that police would seize "all the illegal drugs" and the proceeds from sales. Customers continued to arrive at the store while the raid was underway, but were turned away by police.
A man who was working there when police arrived said the officers seized all the staff members' phones, and didn't return them when the workers were released.
"I think it's a big waste of time and money," said the employee, who would only identify himself as Derek. Staff members leaving the Queen St. store said they expected it would be open again by tomorrow.
"We do know we take a risk by working here," said Laura Glatt, who has been working at the clinic for about a month. "Me personally, I'm all for the risk because I believe in the medicinal aspect of it."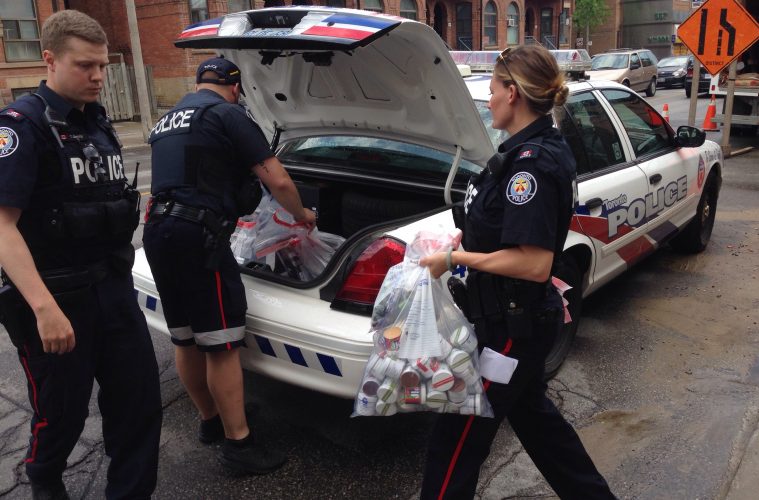 Glatt said she understands the police officers are just doing their job, but thinks Prime Minister Justin Trudeau needs a better strategy as Canada moves toward legalization of marijuana. "All that's happening right now is people are getting hurt."
Personally she uses marijuana for depression, sleeping disorder and eating disorder. She said it will be "maybe a couple of days" before the store reopens.
"I just think it's sort of ridiculous, a waste of resources."